A Dozen Must-Listen Audiobooks for Black History Month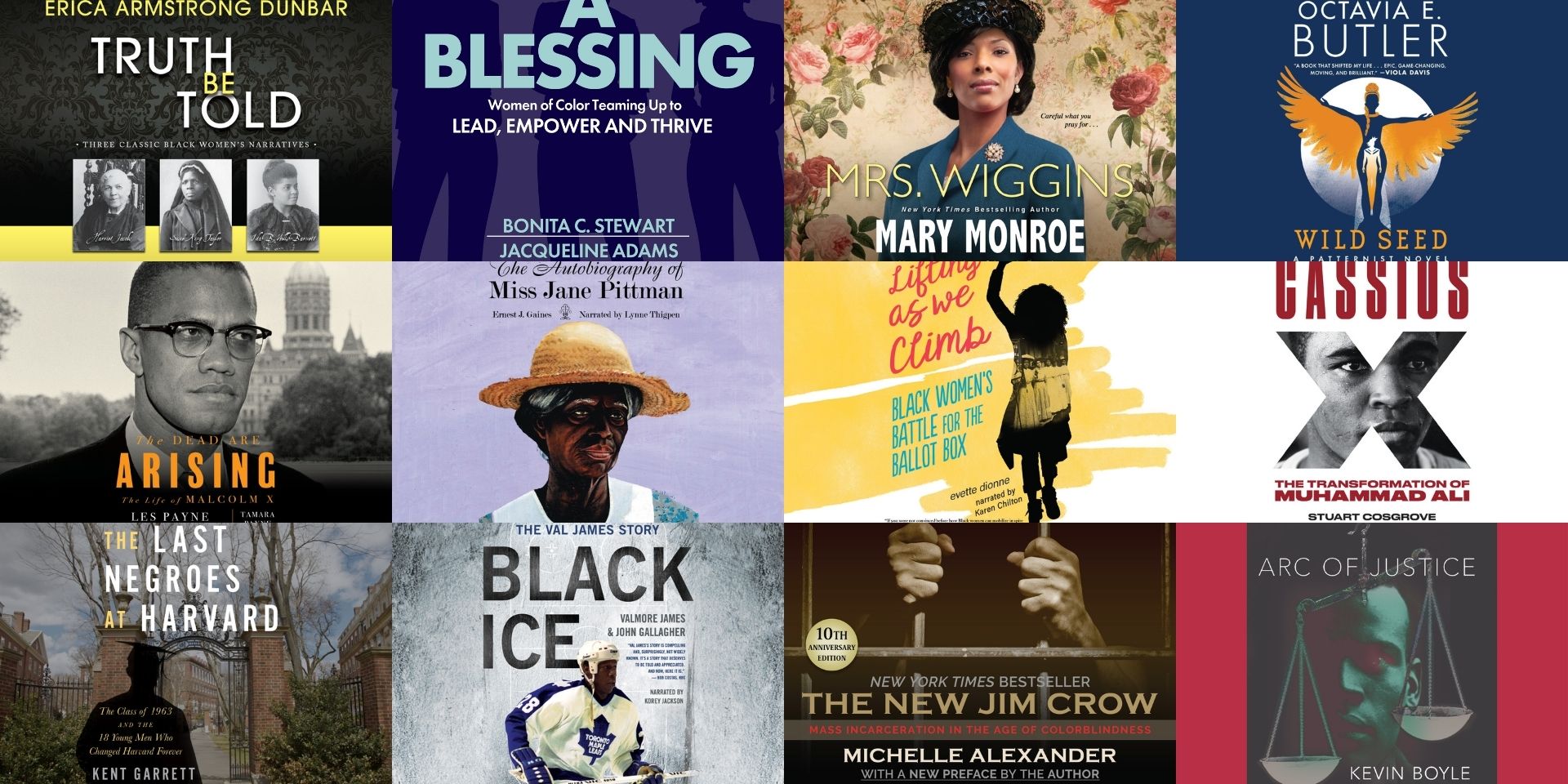 As current events inspire Americans to imagine a better, more equitable future, Black History Month celebrates the opportunity to introduce and reacquaint readers with stories that seek to get us there, souls intact. From Black "unicorns" to Malcolm X, we've curated a shortlist of titles that honor the diversity of Black authors, histories, and cultures. These 12 must-listen audiobooks offer insight and reverence this February as we observe Black History Month.
Truth Be Told: Three Classic Black Women's Narratives
Written by Erica Armstrong Dunbar
Narrated by the author and Robin Miles
Coming 3.30.21 Preorder now
An audio original collection of compelling primary source documents written by 19th-century Black women along with bestselling author Erica Armstrong Dunbar's own context, insights, and storytelling talent. This audiobook comprises three powerful narratives written by formerly enslaved women who lived long past emancipation.
A Blessing: Women of Color Teaming Up to Lead, Empower and Thrive
Written by Bonita C. Stewart and Jacqueline Adams
Narrated by Janina Edwards
Coming 2.23.21 Preorder now
"A group of unicorns is called 'a blessing.' And so are we."
A Blessing presents a fresh, bold analysis of African-American female leadership. An unapologetic look at our often-overlooked role in America's social, political, psychological, and economic history, it is armed with data that should be empowering for today's "unicorns." The audiobook offers a "playbook" to help Black unicorns "team up" and find innovative ways to support one another as they climb what research shows are lonely, stressful, jagged yet ultimately rewarding ladders of opportunity.
Mrs. Wiggins
Written by Mary Monroe
Narrated by Shari Peele
Coming 3.30.21 Preorder now
Reminiscent of her captivating, scandalous Mama Ruby series, New York Times bestselling author Mary Monroe crafts a story set in the Deep South during the Depression, in this tale of a woman determined to have a respectable life—no matter what it costs to keep it …
Wild Seed
Written by Octavia E. Butler
Narrated by Robin Miles
*Available in audio for the first time
Doro is an entity who changes bodies like clothes, killing his hosts by reflex — or design. He fears no one — until he meets Anyanwu. Anyanwu is a shapeshifter who can absorb bullets and heal with a kiss … and savage anyone who threatens those she loves. She fears no one — until she meets Doro. From African jungles to the colonies of America, Doro and Anyanwu weave together a pattern of destiny that not even immortals can imagine.
The Dead are Arising: The Life of Malcolm X
Written by Les Payne and Tamara Payne
Narrated by Dion Graham
*2020 National Book Award winner
Les Payne, the renowned Pulitzer Prize–winning investigative journalist, embarked in 1990 on a nearly 30-year-long quest to interview anyone he could find who had actually known Malcolm X. His goal was ambitious: to transform what would become dozens of interviews into an unprecedented portrait of Malcolm X, one that would separate fact from fiction. Introduced by Payne's daughter and primary researcher, Tamara Payne, The Dead Are Arising is a riveting work that affirms the centrality of Malcolm X to the African-American freedom struggle.
The Autobiography of Miss Jane Pittman
Written by Ernest J. Gaines
Narrated by Lynne Thigpen
Cicely Tyson, known for her Emmy-winning role as Jane Pittman, recently died at age 96. In honor of Black History Month, and Cicely Tyson, we invite you to revisit this stunning piece of fiction. A story not only of a vivid picture of the South before the dawn of the civil rights era, but also of one woman's survival against overwhelming odds. Born a slave and freed when she was 10, Jane leaves the plantation of her childhood and heads in the direction of Ohio in search of a white abolitionist who once befriended her. Accompanied by Ned, a young orphan, Jane struggles to get out of Louisiana. What happens in the years that follow is a tale of loss and heartache and renewed hope, imprinted on its aged teller's face like furrows in a russet field. Now, in the racial upheavals of the '60s, Miss Jane brings closure to one generation, and inspiration to the next.
Lifting as We Climb: Black Women's Battle for the Ballot Box
Written by Evette Dionne
Narrated by Karen Chilton
*2021 Coretta Scott King Book Award Author Honor Book and 2021 YALSA Excellence in Nonfiction Nominee
The first book for young readers to focus on the subject, Dionne recounts how women of color, especially African-American women, were fighting for their right to vote and to be treated as full, equal citizens of the United States. Their battlefront wasn't just about gender. African-American women had to deal with white abolitionist-suffragists who drew the line at sharing power with their Black sisters. They had to overcome deep, exclusionary racial prejudices that were rife in the American suffrage movement. And they had to maintain their dignity—and safety—in a society that tried to keep them in its bottom ranks.
Cassius X: The Transformation of Muhammad Ali
Written by Stuart Cosgrove
Narrated by Kevin R. Free
An in-depth exploration of the pivotal Cassius Clay transformed into Muhammad Ali, exploring the events, relationships, and experiences that shaped him. Although Muhammad Ali's decision to assume a new name has often been portrayed as a sudden transformation, Cassius Clay's conversion to Islam was a process, not an event. For many months he received guidance from Malcolm X, who had traveled from Harlem to Miami to be his mentor as he studied for his entry into the deeply divided and fratricidal Nation of Islam. The name he assumed over those now-forgotten months was Cassius X. This is the story of Cassius X over 12 months in Miami, a city that was changing faster than America itself, as he trains for the fight that will bring him global fame: his world heavyweight title fight against Sonny Liston in February 1964.
The Last Negroes at Harvard: The Class of 1963 and the 18 Young Men Who Changed Harvard Forever
Written by Kent Garrett and Jeanne Ellsworth
Narrated by Peter Jay Fernandez
The untold story of the Harvard class of '63, whose Black students fought to create their own identities on the cusp between integration and affirmative action. In the fall of 1959, Harvard recruited eighteen "Negro" boys as an early form of affirmative action. Four years later they would graduate as African-Americans. Some 50 years later, one of these trailblazing Harvard grads, Kent Garrett, began to reconnect with his classmates and explore their vastly different backgrounds, lives, and what their time at Harvard meant. Part journey into personal history, part group portrait, and part narrative history of the civil rights movement, this is the remarkable story of brilliant, singular boys whose identities were changed at and by Harvard, and who, in turn, changed Harvard.
Black Ice: The Val James Story
Written by Valmore James and John Gallagher
Narrated by Korey Jackson
The first Black American in the NHL tells his story. Val James became the first African-American player in the NHL when he took to the ice with the Buffalo Sabres in 1982, and in 1987 he became the first Black player of any nationality to skate for the Toronto Maple Leafs. Black Ice is the untold story of a trail-blazing athlete who endured and overcame discrimination to realize his dreams and become an inspiration for future generations.
The New Jim Crow: Mass Incarceration in the Age of Colorblindness, 10th Anniversary Edition
Written by Michelle Alexander
Narrated by Karen Chilton
Seldom does a book have the impact of Michelle Alexander's The New Jim Crow. Since it was first published in 2010, it has been cited in judicial decisions and has been adopted in campus-wide and community-wide reads; it helped inspire the creation of the Marshall Project and the new $100 million Art for Justice Fund; it has been the winner of numerous prizes, including the prestigious NAACP Image Award; and it has spent nearly 250 weeks on the New York Times bestseller list. Most important of all, it has spawned a whole generation of criminal justice reform activists and organizations motivated by Michelle Alexander's unforgettable argument that "we have not ended racial caste in America; we have merely redesigned it."
Arc of Justice: A Saga of Race, Civil Rights, and Murder in the Jazz Age
Written by Kevin Boyle
Narrated by Lizan Mitchell
Highly esteemed history professor, author, and editor Kevin Boyle was presented with the National Book Award for this stunning literary achievement. Arc of Justice artfully captures a tumultuous period in American history as it tells a shocking story of violence and racial strife. The grandson of a slave, Dr. Ossian Sweet moved his family to an all-white Detroit neighborhood in 1925. When his neighbors attempted to drive him out, Sweet defended himself—resulting in the death of a white man and a murder trial for Sweet. There followed one of the most important (and shockingly unknown) cases in civil rights history.