RBmedia comprises an ever-expanding group of the best brands in audiobook publishing and distribution

Recorded Books
Recorded Books is RBmedia's flagship audio brand for bestselling authors and content spanning all high-demand fiction and nonfiction genres. Our exclusive catalog of premium titles, narrated by award-winning actors, includes works by Danielle Steel, Brandon Sanderson, J.R.R. Tolkien, Diana Gabaldon, Sarah J. Maas, Jenny Han, Jeff Kinney, and many other leading authors. Since our founding in 1979, we have been a pioneer in the industry and, as part of RBmedia, have achieved thousands of industry honors, including the National Book Award, Audiobook of the Year, Booker Prize, Pulitzer Prize, Hugo Award, and many more.
W. F. Howes Ltd
W. F. Howes Ltd is the UK's leading audiobook, and large-print publisher, releasing over 850 new unabridged audiobooks every year. With a catalogue of over 5,000 titles the company distributes its content through all leading consumer and library vendors. Having been established for over 25 years, W.F. Howes has a wealth of history and experience in working with some of the world's leading authors. This continues to ensure W.F. Howes titles are consistently in the bestsellers charts.

HighBridge
HighBridge is a leading spoken audio producer that was started to produce and distribute recordings of Garrison Keillor's A Prairie Home Companion. Since then, the company's spoken audio catalog has expanded to include New York Times bestselling fiction and nonfiction, Oprah's Book Club titles, National Public Radio compilations, and more. HighBridge has built a reputation among booksellers and audiophiles as one of the industry's highest-quality audio publishers.

WaveSound
Wavesound Pty is one of Australia's leading audiobook and large-print publishers. The company was established in 2009 as a subsidiary of W. F. Howes (UK) and Recorded Books (US). With a focus on representing everything Australian, Wavesound have published some of Australia's bestselling audiobooks. Wavesound work closely with leading authors to consistently deliver exciting titles in a broad range of genres.

Tantor Media
Tantor Media is a leading independent audiobook producer, with must-have authors and award-winning titles. Producing more than 100 new titles every month, Tantor's talented team is dedicated to providing the highest-quality audio experience for the best value. Tantor's extensive catalog includes award winners, bestsellers, and titles with top reviews from all the major publications. With its recording facility, Tantor can quickly deliver today's hottest titles, in multiple formats, often simultaneously with the hardcover release.

Christian Audio
For more than 10 years ChristianAudio.com has been providing top-quality Christian audiobooks and audio-bibles. With a goal of becoming the largest provider of downloadable Christian audio, ChristianAudio.com offers a diverse variety of digital audio products for purchase and immediate download. A love for audiobooks drives production, and the company's mission is to be one of the most trusted places on the Internet for the refreshment and growth of the soul.

Ascent Audio
Ascent Audio, RBmedia's business audio brand, is the number one publisher of business audiobooks in the world. The brand offers the world's largest business audiobook catalog with broad offerings in professional development, coaching management, entrepreneurship, leadership, investing, and finance featuring titles by bestselling business authors like Jon Gordon, Grant Cardone, Michael Watkins, Jeb Blount, Brian Tracy, W. Chan Kim and Renée Mauborgne. Ascent Audio partners with top business publishers, including McGraw Hill Professional, Harvard Business Review Press, Princeton University Press, Wiley, Oxford University Press, Mango, and Entrepreneur Press.

Kalorama Audio
Kalorama Audio publishes audiobooks and other digital audio content focused on politics and policy—one of the fastest-growing categories in nonfiction. An imprint of RBmedia, Kalorama Audio is located in one of the world's foremost political hubs and has strong publishing partnerships with the journalists, authors, and commentators who are writing about politics, policy initiatives, and public discourse.

GraphicAudio
GraphicAudio® is a leader in immersive dramatized audio and the developer of the "A Movie in Your Mind®" audiobook entertainment format. GraphicAudio is home to the largest catalog of full cast dramatizations in the industry, with over 1,300 titles across 150 series, focused chiefly on action/adventure, comics, science fiction/fantasy, and westerns. The company has produced titles with comic brands such as Marvel, DC Comics, Dynamite, and Vault Comics—and award-winning authors such as Brandon Sanderson, Peter V. Brett, William W. Johnstone, Charlaine Harris, and Brent Weeks.

BookaVivo
BookaVivo publishes Spanish-language audiobooks in a vast array of categories, including literary fiction, classics, history, self-help, romance/audionovelas, business, and religion. BookaVivo releases Spanish audiobook editions from RBmedia's bestselling house authors, including Julia Alvarez, Octavia Butler, Charlaine Harris, Brandon Sanderson, Francine Rivers, Amy Stewart, and Patrick O'Brian. The brand also features Spanish national treasures like Spain's Manuel Chaves, Peru's Karina Pacheco, Mexico's Jazmina Barrera, Cuba's Carlos Manuel Álvarez, and Colombia's Silvana Paternostro.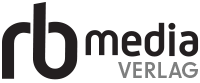 RBmedia Verlag
RBmedia Verlag publishes German-language audiobooks in the areas of fiction and nonfiction, primarily politics and economics. Its imprints, ABOD and Hörbuch München, supply leading titles from major German publishing houses to the brand, including "Cycles of Climate Change" by Greta Thunberg and Dalai Lama, "The Self-Righteous" by Sahra Wagenknecht, and "Put Warm Clothes On, It's Going to Be Hot" by Sven Plöger and Eckart von Hirschhausen.
Éditions Thélème
Éditions Thélème is a leading publisher of French-language audiobooks and part of RBmedia. Éditions Thélème specializes in publishing French-language audiobooks in the areas of classic and contemporary literature from past and present authors, such as Marcel Proust, Victor Hugo, Plato, Jane Austen, Emily Bronté, Hermann Hesse, Gustave Flaubert, and Alexandre Dumas. Notable Éditions Thélème audiobook titles include In Search of Lost Time, Les Misérables, Steppenwolf, Sentimental Education, and The Three Musketeers.