#1 audiobook publisher and distributor in the world
RBmedia is the largest audiobook publisher in the world.
Our catalog of over 60,000 titles represents the world's largest collection of audiobooks in the industry. We publish and distribute over 7,500 new titles every year—more than other top audiobook publishers combined.
The company's powerful digital retail and library distribution network reaches millions of listeners around the globe—at home, in the car, and everywhere their mobile devices go.
With over 60,000 exclusive titles, RBmedia audiobooks continually dominate key literary awards and bestseller lists, including:
• 65 New York Times bestsellers in 2021
• 3 Pulitzer Prize winners in 2021
• 10 Hugo Award winners/finalists in 2021
• 1 Grammy Awards 2023 nominee
• 25+ National Book Award winners
• 40 Booker Prize winners/shortlisted titles
• 10+ Michael L. Printz Award winners/Honor Books
• 75+ Newbery Medal winners/Honor Books
Consumer demand will power an $8 billion+ spoken audio market opportunity in 2022, driven by audiobooks.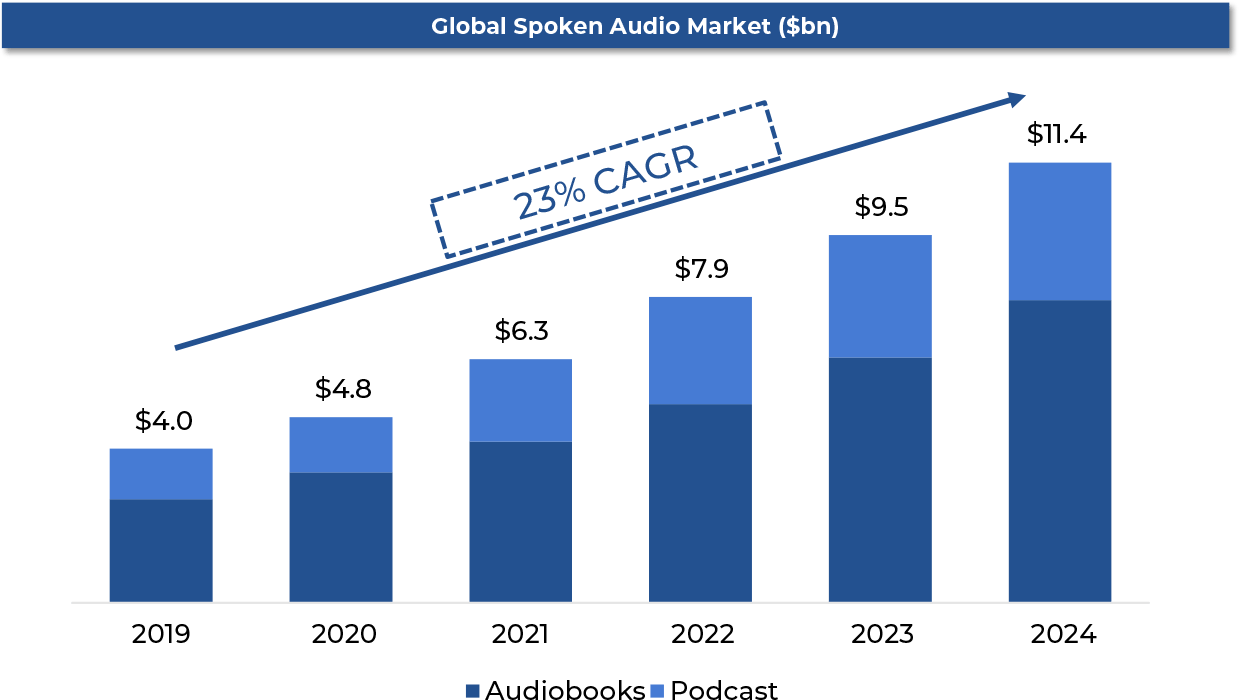 Source: Market Research. Note: Market size reflects estimated total consumer revenue; based on average estimates of industry reports including PWC, Deloitte, Grand View Research, and Stratistics Market Research
7,500+ new titles published annually – more than the Big 5 book publishers combined
Consumer adoption of new technologies and audio formats is propelling the market forward

Sources: Nielsen, PR Newswire, Houlihan Lokey, Audio Publishers Association.
Tom MacIsaac
Chief Executive Officer

Michael Bauer
Chief Financial Officer

John Shea
Chief Product & Marketing Officer
Mike Pyland
Chief Technology Officer

Troy Juliar
Chief Content Officer
Ed Longo
Chief Operating Officer
Miles Stevens-Hoare
Managing Director – RBmedia International & W.F. Howes
We're looking for the best and brightest to join our team in these strategic positions:
Royalty Analyst. Reporting to the Royalty Accounting Manager, the Royalty Analyst will provide support relating to the preparation and issuance of accurate and timely royalty statements to Authors, Agents, Agencies, Musicians, and other pertinent parties. See job description»

RBmedia is owned by KKR – a leading global investment firm that manages multiple alternative asset classes, including private equity, energy, infrastructure, real estate and credit, with strategic manager partnerships that manage hedge funds.
Transparency in Coverage
Machine Readable Files. This link leads to the machine-readable files that are made available in response to the federal Transparency in Coverage Rule and includes negotiated service rates and out-of-network allowed amounts between health plans and healthcare providers. The machine readable files are formatted to allow researchers, regulators, and application developers to more easily access and analyze data.