RBmedia has over 60,000 audiobooks and publishes over 8,000 new titles every year—more than the Big 5 publishers combined. Our powerful digital retail and library distribution network reaches millions of listeners around the globe—at home, in the car, and everywhere their mobiles devices go.
Hear the
Latest and Greatest

RBmedia is the
ONLY

audiobook publisher that delivers authors and agents value in three key ways...
We produce
top-quality

, bestselling spoken audio content
Publishing over 60,000 titles from Danielle Steel, Diana Gabaldon, Jeff Kinney, and many other bestselling authors

Creating audiobooks for industry standouts—66 NYT bestsellers, seven Pulitzer Prize winners and finalists, Grammy nomination, and many others in 2022 alone

Using professional, award-winning voice actors and top directors

Leveraging proprietary data and technology to discover emerging authors and titles

Since we are the biggest in the industry, we have the most audiobook
production experience
We have the
broadest distribution

network—reaching millions of consumers everywhere they go
Available from every leading digital retail partner, including Amazon's Audible, Google, Apple, Kobo, Audiobooks.com, and Spotify

Accessible on all major library platforms and suppliers, including OverDrive, Hoopla, Biblioteca, and Blackstone Audio

Playable across devices: smart phones, Android Auto, Apple CarPlay, Amazon Alexa, Google Home, smart watches, and many other systems

Distributed through 50+ digital platforms
Authors make
more money

when they work with RBmedia
As the largest audiobook publisher, no other company can monetize audiobook rights as well as RBmedia

RBmedia ensures authors' works are available everywhere to everyone

New authors will be in great company with thousands of bestselling writers who have chosen RBmedia

RBmedia has developed unique approaches and systems to drive title marketing and sales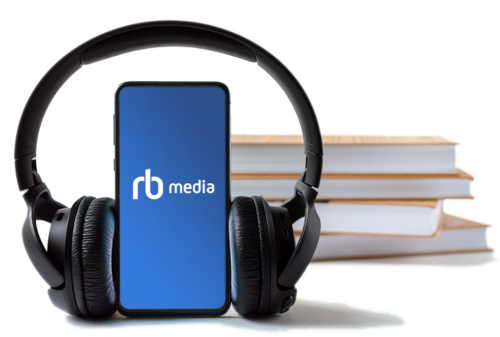 No other company can monetize your audiobook rights as well as RBmedia.
RBmedia, the largest audiobook publisher in the world, today announced that its audiobook, "The Covenant of Water" by Abraham Verghese, was selected as the next Oprah Book Club pick. Oprah's latest selection, published worldwide by RBmedia's flagship publishing brand Recorded Books, is available now everywhere audiobooks are sold.
RBmedia today announced the upcoming release of its audiobook recording of The Covenant of Water, the long-awaited new novel by bestselling author Abraham Verghese. More than a decade in the making, The Covenant of Water is Verghese's first book since Cutting for Stone, which spent over two years on the New York Times bestseller list and sold more than 1.5 million copies in the U.S. alone.
RBmedia, the largest audiobook publisher in the world, today announced record-breaking 2022 performance. The company entered new strategic partnerships, expanded into key international markets, published more titles than ever before, and produced audiobooks for numerous New York Times bestsellers and literary award winners.
RBmedia comprises an ever-expanding group of the best brands in spoken audio content and digital media distribution technology
The annual global audiobook market opportunity for publishers will ramp from ~$4 billion in 2022 to ~$10 billion in 2027