Toes in the sand, blue skies, clear water… only thing you need is a new audiobook for your fun in the sun! Here are some recent titles that are great for beach listening!
It's Not Summer Without You
Written by Jenny Han
Performed by Lola Tung and Gavin Casalegno
Belly finds out what comes after falling in love in this follow-up to The Summer I Turned Pretty. Can summer be truly summer without Cousins Beach?
It used to be that Belly counted the days until summer, until she was back at Cousins Beach with Conrad and Jeremiah. But not this year. Not after Susannah got sick again and Conrad stopped caring. Everything that was right and good has fallen apart, leaving Belly wishing summer would never come.
But when Jeremiah calls saying Conrad has disappeared, Belly knows what she must do to make things right again. And it can only happen back at the beach house, the three of them together, the way things used to be. If this summer really and truly is the last summer, it should end the way it started—at Cousins Beach.
Anger Bang
Written by Avery Flynn
Performed by Kirsten Leigh and Lance Greenfield
Shy paleontologist Thea Pope just wants to get through her sister's '80s-themed monstrosity of a TV reality-show wedding so she can get to her summer field work. The only problem? Her sister has turned into the ultimate bridezilla – as in pink parasols, organza hats, forcing people to shave and dye their hair levels of over-the-top, it's-my-day antics – all while on location in a place literally called hell that reeks of sulfur and lost hopes.
The Secret Summer Promise
Written by Keah Brown
Performed by Tamika Katon-Donegal
Andrea Williams has got this. The Best Summer Ever. Last summer, she spent all her time in bed, recovering from the latest surgery for her cerebral palsy. She's waited too long for adventure and thrills to enter her life. Together with her crew of ride-or-die friends, and the best parents anyone could ask for (just don't tell them that), she's going to live it up.
There's just one thing that could ruin it: Her best friend, Hailee, finding out Andrea's true feelings. So Andrea WILL fall out of love with Hailee – even if it means dating the cute boy George who keeps showing up everywhere with a smile.
Fourth Wing
Written by Rebecca Yarros
Performed by Rebecca Soler and Teddy Hamilton
An Instant New York Times Bestseller
A Goodreads Most Anticipated Book
Enter the brutal and elite world of a war college for dragon riders from USA Today bestselling author Rebecca Yarros.
Twenty-year-old Violet Sorrengail was supposed to enter the Scribe Quadrant, living a quiet life among books and history. Now, the commanding general―also known as her tough-as-talons mother―has ordered Violet to join the hundreds of candidates striving to become the elite of Navarre: dragon riders.
A Guide to the Dark
Written by Meriam Metoui
Performed by Vaneh Assadourian, Ariana Delawari, and Ramiz Monsef
The Haunting of Hill House meets Nina LaCour in this paranormal mystery YA about the ghosts we carry with us.
You can check out of Room 9, but you can never leave.
The room is watching. But Mira and Layla don't know this yet. When the two best friends are stranded on their spring break college tour road trip, they find themselves at the Wildwood Motel, located in the middle of nowhere, Indiana. Mira can't shake the feeling that there is something wrong and rotten about their room. Inside, she's haunted by nightmares of her dead brother. When she wakes up, he's still there.
Star Bringer
Written by Tracy Wolff and Nina Croft
Performed by Mia Barron, Suzy Jackson, Samara Naeymi, and Ruffin Prentiss
Firefly meets The Breakfast Club in this snarky, new adult romance.
The sun is dying…and it's happening way too damn fast.
With the clock ticking, the Nine Planets' only hope of survival rests on a fancy space station and the alien artifact it's carrying. Which is why it really sucks when some jackass doesn't want the universe saved and blows that station up―while you're still on it.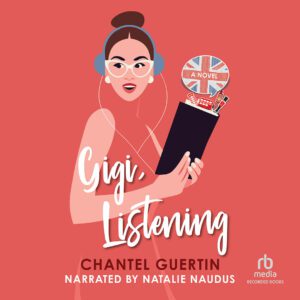 Gigi Listening
Written by Chantel Guertin
Performed by Natalie Naudus
From the Canadian TV personality and author of the instant hit and PopSugar Beach Reads Selection, Instamom, comes a touching and witty novel about a woman who takes an impulsive trip to England to meet the man behind the audiobook narrator she's fallen for. Touching and funny, with emotional depth, this life-changing journey is perfect for fans of Kate Clayborn, Christina Lauren, and Sophia Kinsella.