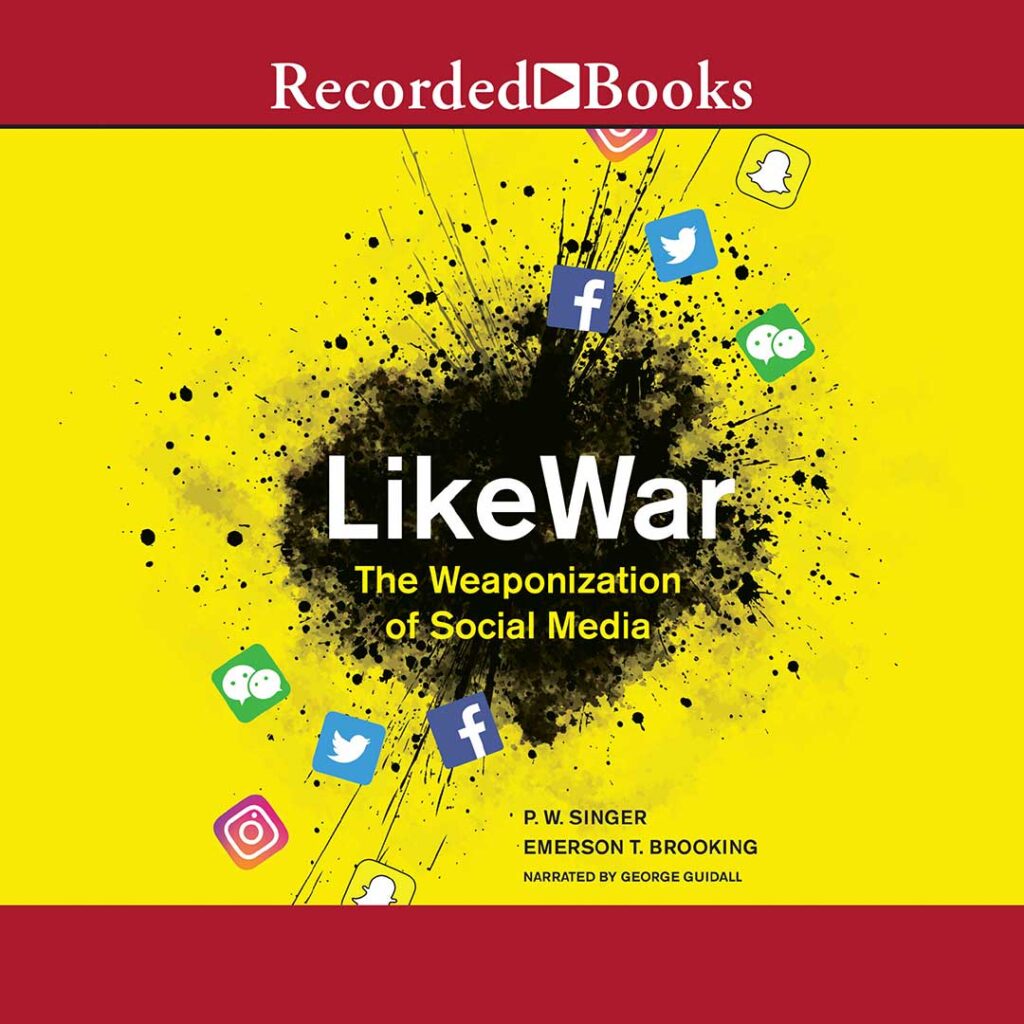 The Weaponization of Social Media
Through the weaponization of social media, the internet is changing war and politics, just as war and politics are changing the internet. Terrorists livestream their attacks, "Twitter wars" produce real world casualties, and viral misinformation alters not just the result of battles, but the very fate of nations. War, tech, and politics have blurred into a new kind of battle space that plays out on our smartphones.
LikeWar
The Weaponization of Social Media
Written by: P.W. Singer and Emerson T. Brooking
Narrated by: George Guidall
"A compelling read . . . [LikeWar] is not a warning about tomorrow's war—it's a map for those who don't understand how the battlefield has already changed."
—Washington Post
"Seriously. If you use social media in any capacity, you should read this."
—The Verge
"Extremely timely and fascinating."
—The New York Times, New & Noteworthy
"Terrific and alarming . . . Wow."
—SE Cupp, CNN
"Reading LikeWar will help you to avoid being part of this Internet of Idiots . . . While students of history, strategic studies, political science, and international relations will all find LikeWar on their required reading list, anyone else who wishes to understand the world we live in must add LikeWar to the top of the pile on their nightstand."
—Forbes
"Whether it's his fiction and nonfiction, his work as a TRADOC 'mad scientist,' the interviews he's done with defense media, the pages of Popular Science, or some other venue, P.W. Singer is the Army's must-read thinker."
—Army Magazine​
"...an in-depth account...Through a series of engaging profiles the authors, P. W. Singer and E. T. Brooking, explore the new reality and consequences facing each of us as we attempt to interact with the larger world via social media. Well organized with a vernacular easy to follow, LikeWar seeks to show us the hazards we are already encountering on a daily basis...this is an excellent book for anyone regularly utilizing social media, in particular the modern warfighters seeking a better understanding of information warfare and the terrain in which it is fought."
—Journal of the Joint Air Power Competence Center
"Backed by over 100 pages of notes, LikeWar is sober, deeply researched, and still compulsively readable. Comparisons to On War and The Art of War are apt."
—Amazon, Best Book of the Month (Oct)
"'Russia is not the full story," Singer tells Codebook. 'Russia is just a chapter in a larger book.' Singer, a researcher at the New America think tank, means that both figuratively and literally. His and Brooking's book, 'LikeWar: The Weaponization of Social Media,' comes out today. It may be the first study to link Mexican cartels, ISIS and reality TV villain Spencer Pratt."
—Axios