RBmedia® Announces a Landmark Original Audiobook Production: Dolly Parton, Songteller: My Life in Lyrics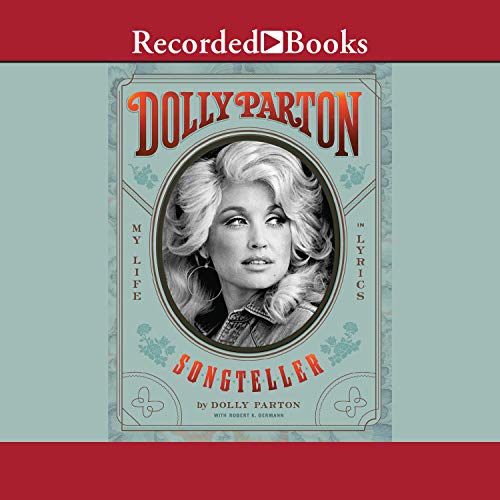 The legendary singer-songwriter delivers this compelling audio experience in her own words, sharing her most beloved songs and the stories behind them.
Landover, MD, August 6, 2020—RBmedia, a leading spoken audio and digital media platform company, today announced that it has concluded a deal for an original audiobook production of Dolly Parton, Songteller: My Life in Lyrics, a landmark celebration of the remarkable life and career of a country music and pop-culture legend.
Produced by Recorded Books®, RBmedia's flagship publishing brand, Songteller features Dolly Parton in her own words, telling personal stories, sharing treasured memories, and revealing candid insights into the creative process behind her music and lyrics. A celebration of over 60 years of songwriting, the audiobook weaves Dolly's most personal stories around samples of nearly 100 of her most cherished songs.
What was life like growing up in a one-bedroom log cabin with 11 siblings? How close did Dolly come to singing "I Will Always Love You" as a duet with Elvis? How did she become an actress? Who was Jolene? Listen as Dolly Parton answers these questions and many more about her life and music in this original audiobook recorded by the artist in Nashville, TN.
"Across my life, I've written thousands of songs. This fall, for the first time ever, we're spotlighting a hundred of my favorites in my new audiobook, Dolly Parton, Songteller. Not only will you be able to revisit my life in lyrics, but I'll tell you never-before-heard stories behind the songs. I am so thrilled to announce my collaboration with Recorded Books to create this unique audio experience."
In Songteller, Dolly explores her most famous, influential, and beloved songs that have defined her storied career as a songwriter, singer, and entertainer.
"Above all else, Dolly Parton truly is a Songteller," says Troy Juliar, Chief Content Officer for RBmedia. "In this unique audio experience, she carries fans with her on a journey behind the scenes of her legendary music career. We are honored to be the publisher that shares these remarkable stories and memories with everyone who loves music history, country music, and Dolly Parton."
Dolly Parton, Songteller: My Life in Lyrics will be available on November 17, 2020 in both CD and digital audiobook form, and is currently available for preorder on Amazon. As a companion to the Songteller audiobook, an illustrated book of the same name is being published by Chronicle Books.
###
About RBmedia
RBmedia is a global leader in spoken audio content and digital media distribution technology that reaches millions of consumers—at home, in the car, and wherever they take their mobile devices. RBmedia produces exclusive titles and delivers the finest digital content through its platforms, including Audiobooks.com. Headquartered in Landover, Maryland, the company is the largest producer of audiobooks in the world with a catalog of more than 45,000 exclusive titles through its content brands: Recorded Books, Tantor Media, HighBridge, Kalorama Audio, ChristianAudio, Gildan Media, GraphicAudio, W. F. Howes in the United Kingdom, and Wavesound in Australia. RBmedia is owned by KKR, a leading global investment firm. Find out more at www.rbmediaglobal.com.
About Dolly Parton
Dolly Parton is the most honored and revered female country singer-songwriter of all time. Achieving 25 RIAA-certified gold, platinum, and multi-platinum awards, she has had 26 songs reach #1 on the Billboard country charts, a record for a female artist. Parton recently became the first country artist honored as Grammy MusiCares Person of the Year given out by NARAS. She has 44 career Top 10 country albums, a record for any artist, and 110 career-charted singles over the past 40 years. In 2014 the RIAA recognized her impact on recorded music with a plaque commemorating more than 100 million units sold worldwide. Her 2016 #1 album, "Pure & Simple," which topped the Billboard Top Country Albums and Americana/Folk Albums charts and debuted at No. 1 in the U.S., Canada, U.K. and Australia, added to that massive tally. She has garnered ten Grammy Awards and 49 nominations, including the Lifetime Achievement Award and a 2020 win with for KING & COUNTRY for their collaboration on "God Only Knows"; 10 Country Music Association Awards, including Entertainer of the Year; five Academy of Country Music Awards, also including a nod for Entertainer of the Year; four People's Choice Awards; and three American Music Awards. In 1999, Parton was inducted as a member of the coveted Country Music Hall of Fame. Parton has donated over 140 million books to children around the world with her Imagination Library. Her children's book, Coat of Many Colors, was dedicated to the Library of Congress to honor the Imagination Library's 100 millionth book donation. From her "Coat of Many Colors" while working "9 to 5," no dream is too big and no mountain too high for the country girl who turned the world into her stage.