RBmedia Audiobooks Dominate Key Literary Awards and Bestseller Lists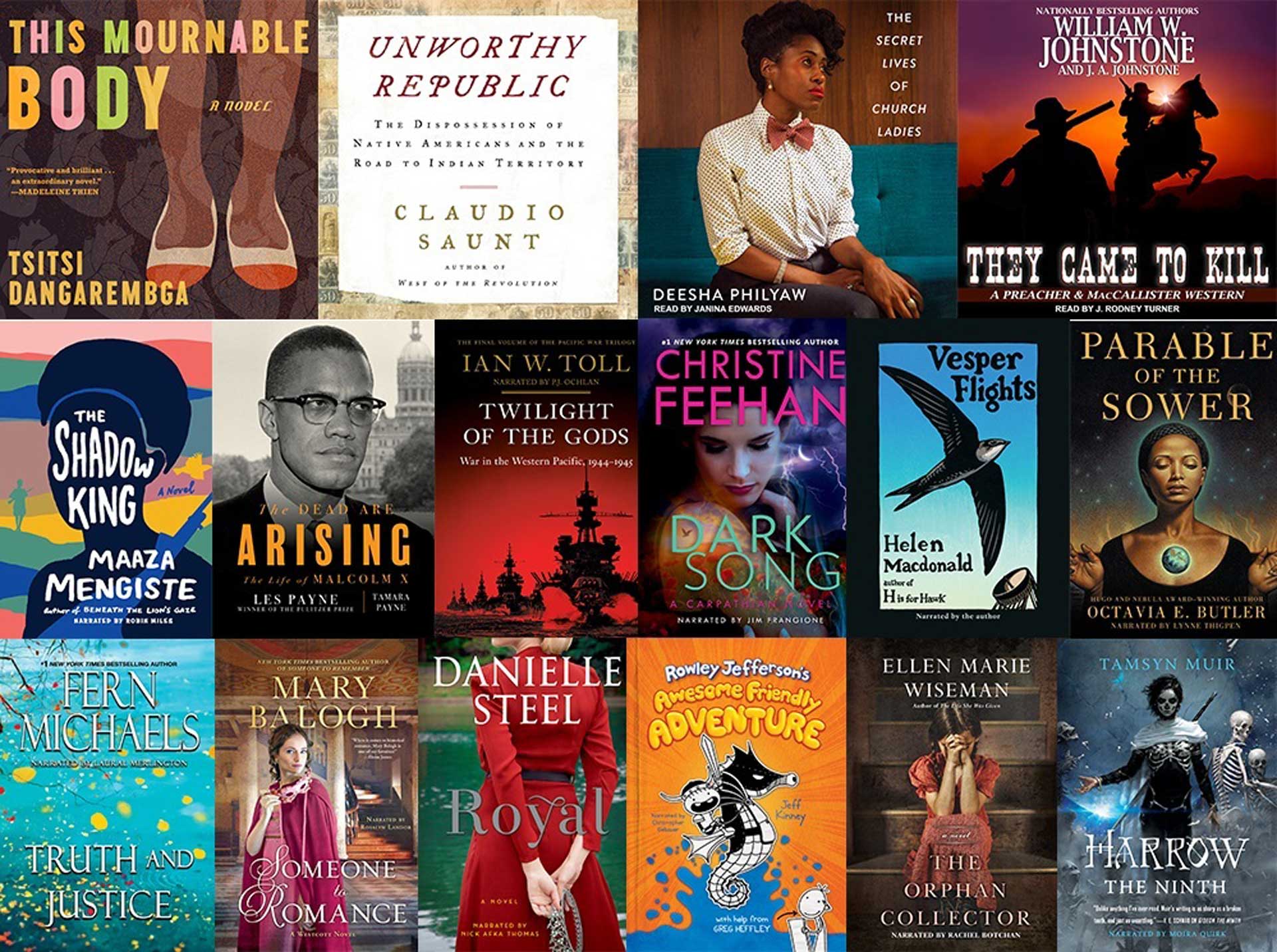 Titles are the latest additions to a catalog of acclaimed works and over 45,000 audiobooks
Landover, MD, October 13, 2020—RBmedia, a global leader in spoken audio content and digital media distribution technology, today announced that its audiobooks represent half of the shortlist for the renowned Booker Prize, three finalist spots on the 2020 National Book Awards list, and 44 New York Times bestsellers since the beginning of this year.
BOOKER SHORTLIST AND NATIONAL BOOK AWARDS
RBmedia is the audiobook publisher for three of the six titles on the shortlist for the 2020 Booker Prize—one of the world's most prestigious literary awards. The Shadow King by Maaza Mengiste, Burnt Sugar by Avni Doshi, and This Mournable Body by Tsitsi Dangarembga are shortlisted for this year's Booker Prize, which is awarded annually to the best novel of the year written in English. The winner will be announced November 17.
A gripping novel set during Mussolini's 1935 invasion of Ethiopia, The Shadow King—produced by RBmedia's flagship publishing brand Recorded Books—reflects on the first real conflict of World War II, casting light on the women soldiers who were left out of the historical record. Also a Recorded Books production, Avni Doshi's debut novel, Burnt Sugar, is a story about love and betrayal between mother and daughter. In This Mournable Body, published by the company's HighBridge brand, Tsitsi Dangarembga returns to the protagonist of her acclaimed first novel, Nervous Conditions, to examine how the hope and potential of a young girl and a fledgling nation can sour over time and become a bitter and floundering struggle for survival.
This year's National Book Awards finalists include three RBmedia titles: Deesha Philyaw's The Secret Lives of Church Ladies (Tantor Media), Claudio Saunt's Unworthy Republic: The Dispossession of Native Americans and the Road to Indian Territory (HighBridge), and The Dead Are Arising: The Life of Malcolm X by Les Payne and Tamara Payne (Recorded Books).
"Congratulations to all of our RBmedia authors for making it into the top echelon of these key literary awards," said Brian Sweany, Director of Acquisitions for RBmedia's Recorded Books. "These nominees deserve to be recognized for their superb works, and we're honored that they are part of the RBmedia family."
The company's 2020 Booker and National Book Awards finalists join an RBmedia catalog of acclaimed works that includes:
Seven Pulitzer winners and finalists in 2019 and 2020
13 Hugo Award winners and finalists in 2019 and 2020
26 Michael L. Printz Award Winner and Honor books
99 Newbery Medal and Honor books
18 National Book Award winners
12 Man Booker Prize winners
NEW YORK TIMES BESTSELLERS
RBmedia also has 44 audiobook titles among the New York Times bestsellers so far in 2020 from two of its publishing brands—Recorded Books and Tantor Media—including these recent additions:
Twilight of the Gods by Ian W. Toll
Dark Song by Christine Feehan
Vesper Flights by Helen Macdonald
Parable of the Sower by Octavia E. Butler
Truth and Justice by Fern Michaels
Someone to Romance Mary Balogh
Royal by Danielle Steel
Rowley Jefferson's Awesome Friendly Adventure by Jeff Kinney
They Came to Kill by William W. Johnstone & J.A. Johnstone
The Orphan Collector by Ellen Marie Wiseman
Harrow the Ninth by Tamsyn Muir
"RBmedia anticipates even more of its titles being announced as award winners and bestsellers in the coming months," said Troy Juliar, Chief Content Officer for RBmedia.
###
About RBmedia
RBmedia is a global leader in spoken audio content and digital media distribution technology that reaches millions of consumers—at home, in the car, and wherever they take their mobile devices. Headquartered in Landover, Maryland, the company is the largest producer of audiobooks in the world with a catalog of more than 45,000 exclusive titles through its content brands: Recorded Books, Tantor Media, HighBridge, Kalorama Audio, ChristianAudio, Gildan Media, GraphicAudio, W. F. Howes in the United Kingdom, and Wavesound in Australia. RBmedia is owned by KKR, a leading global investment firm. Find out more at rbmediaglobal.com.