RBmedia Claims 2021 Audie Award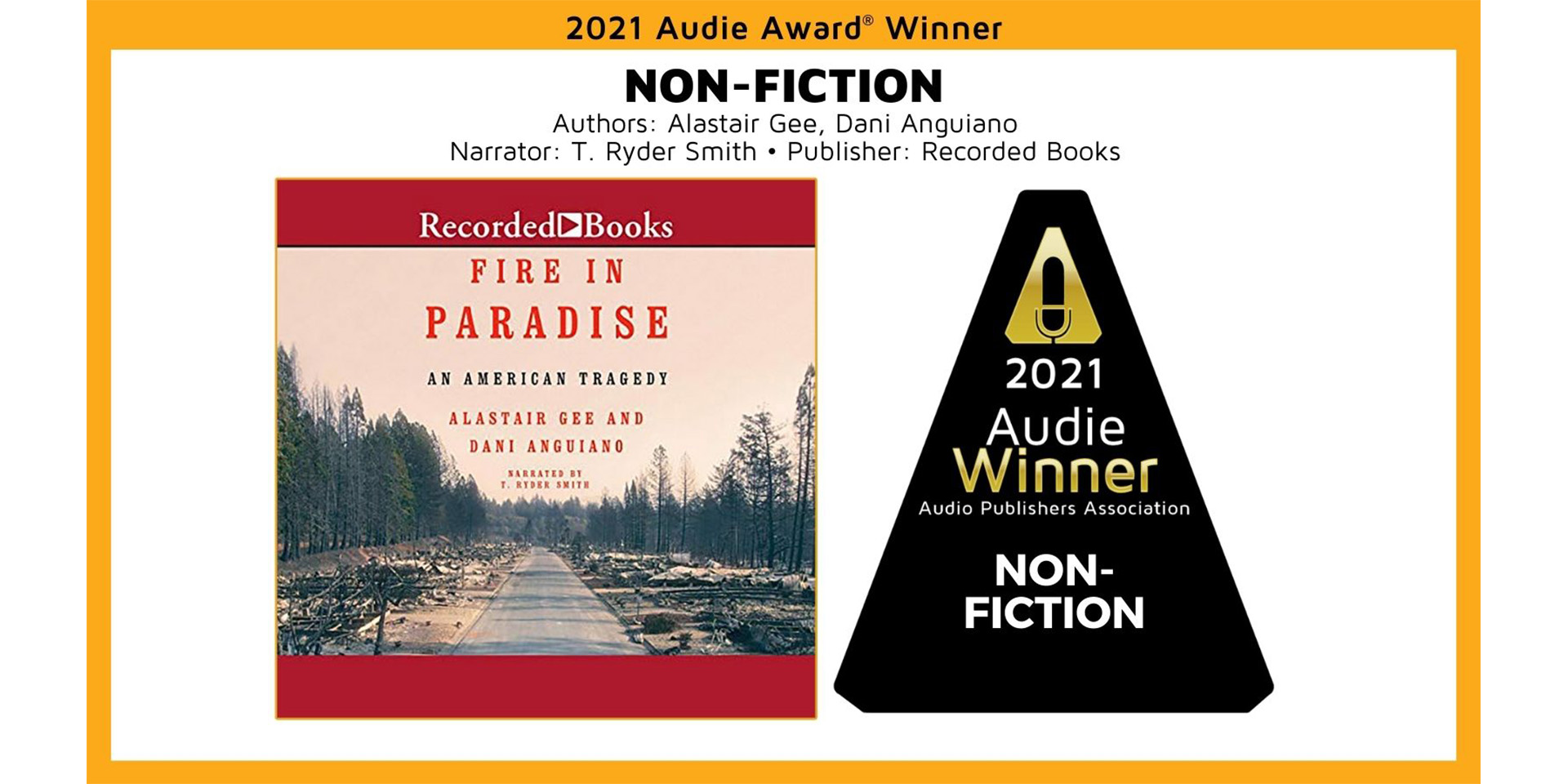 Fire in Paradise wins best nonfiction audiobook
Landover, MD, March 25, 2021—RBmedia, the largest audiobook producer in the world, today announced that its audiobook Fire in Paradise, written by Alastair Gee and Dani Anguiano and narrated by T. Ryder Smith, has won the 2021 Audie Award for Nonfiction. Produced by RBmedia's flagship publishing brand, Recorded Books, this audiobook is a dramatic and moving narrative of the most destructive American wildfire in a century, which swept through Paradise, California, in 2018.
The authors are California-based journalists who reported the story of the town of Paradise since the day the fire began. Together they reveal the heroics of the first responders, the miraculous tales of those who escaped Paradise, and the horrors experienced by those who were trapped.
"Fire in Paradise is audio at its best—superb writing, flawless narration, and top-notch production," said Troy Juliar, Chief Content Officer for RBmedia. "To receive an Audie Award among a record-breaking 1,528 entries is a true testament to the talent of our authors and narrators, the quality and excellence of our production, and the value we bring to the audiobook industry."
This year's Audie Award finalists also included RBmedia titles Homie: Poems by Danez Smith (narrated by the author), In Dependence by Sarah Ladipo Manyika (narrated by the author), Say Her Name: Poems to Empower by Zetta Elliott (narrated by Channie Waites), and The Dead Are Arising: The Life of Malcolm X by Les Payne and Tamara Payne (narrated by Dion Graham).
Fire in Paradise and all of our Audies finalists are available for download on Audible, iTunes, Google Play, Audiobooks.com, and wherever digital audiobooks are sold.
The Audies, often promoted as the "Oscars of the audiobook industry," is the premier awards program in the U.S., recognizing distinction in audiobooks and spoken-word entertainment. The 2021 Audie Award winners were announced at the 26th annual Audie Awards ceremony virtually on March 22.
###
About RBmedia
RBmedia is the largest audiobook producer in the world. With more than 50,000 exclusive titles, our audiobooks continually dominate key literary awards and bestseller lists. The company's powerful digital retail and library distribution network reaches millions of listeners around the globe—at home, in the car, and everywhere their mobile devices go. Our titles are available on leading audio platforms, including Audible, iTunes, Google Play, Audiobooks.com, OverDrive, Hoopla, and many more. RBmedia is owned by KKR, a leading global investment firm. Find out more at rbmediaglobal.com.