RBmedia Publishes Audio for Oprah's Latest Book Club Pick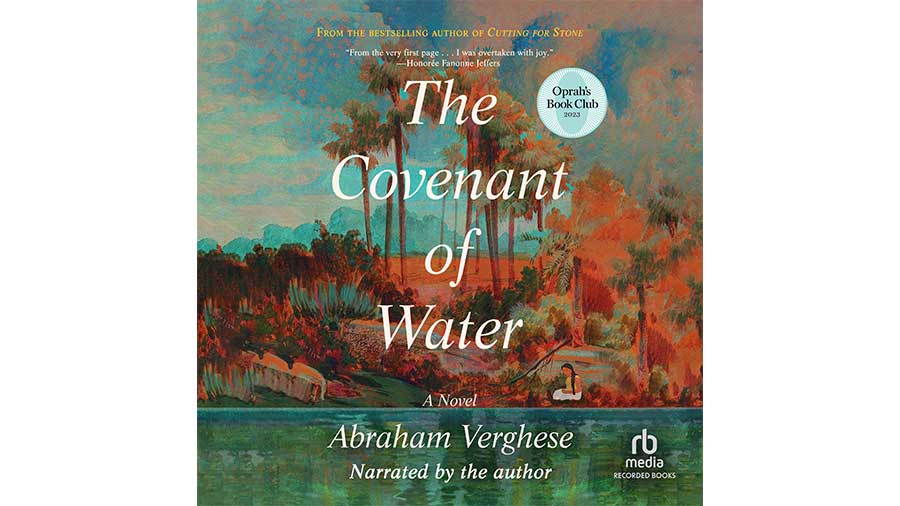 Oprah selects "The Covenant of Water" by Abraham Verghese
Landover, MD, May 2, 2023—RBmedia, the largest audiobook publisher in the world, today announced that its audiobook, "The Covenant of Water" by Abraham Verghese, was selected as the next Oprah Book Club pick. Oprah's latest selection, published worldwide by RBmedia's flagship publishing brand Recorded Books, is available now everywhere audiobooks are sold.
Oprah announced her selection today on "CBS Mornings."
Abraham Verghese said, "It took time for me to believe this really was Oprah calling! Hearing that melodious, signature voice of the one person who has done more for the kind of books I love to read than anyone alive, and hearing her passion for my book, which as she kept speaking I realized she'd read more closely than any reader I know … well, I teared up. My thoughts were racing back through the decade-plus of writing 'The Covenant of Water,' during which time my mother died, and Covid had descended on us … for Oprah to be calling me felt like a miracle. After we hung up I realized that I'd reflexively risen to my feet and stayed that way throughout our long chat; I'm not ashamed to say I got to my knees and gave thanks. Mom would have approved."
More than a decade in the making, "The Covenant of Water" is Verghese's first book since "Cutting for Stone," which spent over two years on the "New York Times" bestseller list and sold more than 1.5 million copies in the US alone. Spanning the years 1900 to 1977, "The Covenant of Water" is set in Kerala, on South India's Malabar Coast, and follows three generations of a family that suffers a peculiar affliction: in every generation, at least one person dies by drowning—and in Kerala, water is everywhere.
Troy Juliar, Chief Content Officer for RBmedia said, "For decades, Oprah has selected books that start conversations, introduce new authors, and inspire a deeper appreciation for established voices. "The Covenant of Water" is a novel the world has been anticipating for more than a dozen years. We're honored that our audio edition of Abraham Verghese's work—which was performed by the author himself—will enable participants in Oprah's Book Club to listen and experience the story in an immersive way."
Since the book club launched in 1996, Oprah has hand-selected the more than 100 recommendations, ranging from classic novels by Dickens and obscure titles from emerging authors to popular new bestsellers and book prize winners. Oprah's Book Club influences titles across all demographics and generations, a phenomenon known as "The Oprah Effect," propelling authors and titles to both critical and commercial acclaim. 
"The Covenant of Water" is available for download on Audible, Spotify, iTunes, Google Play, Audiobooks.com, and everywhere digital audiobooks are sold. "The Covenant of Water" was also published today in hardcover by Grove Press and will be published in the UK by Grove UK on May 18, 2023. 
Social Handles
Oprah's Book Club: @OprahsBookClub 
Author Website: https://www.abrahamverghese.org/
Author IG: https://www.instagram.com/abraham.verghese.official/
Author Facebook: https://www.facebook.com/verghese.fanpage 
Publisher: @groveatlantic
Audiobook: @rbmediaco
###
About RBmedia
RBmedia is the largest audiobook publisher in the world. With more than 60,000 titles, our audiobooks continually top key literary awards and bestseller lists. The company's powerful digital retail and library distribution network reaches millions of listeners around the globe—at home, in the car, and everywhere their mobile devices go. Our titles are available on leading audio platforms, including Audible, Spotify, iTunes, Google Play, Audiobooks.com, Storytel, OverDrive, Hoopla, and many more. RBmedia is owned by KKR, a leading global investment firm. Find out more at rbmediaglobal.com.
About Recorded Books
Recorded Books is RBmedia's flagship audio brand for bestselling authors and content spanning all high-demand fiction and nonfiction genres. Our catalog of premium titles, narrated by award-winning actors, includes works by Brandon Sanderson, J.R.R. Tolkien, Diana Gabaldon, Sarah J. Maas, Jenny Han, Jeff Kinney, and many other leading authors. Since our founding in 1979, we have been a pioneer in the industry and, as part of RBmedia, have achieved thousands of industry honors, including the National Book Award, Audiobook of the Year, Booker Prize, Pulitzer Prize, Hugo Award, and many more.
About Abraham Verghese
Abraham Verghese is the Linda R. Meier and Joan F. Lane Provostial Professor in the Department of Medicine at Stanford University. He is the author of the "New York Times" bestseller "Cutting for Stone" and is a physician with a reputation for his focus on healing in an era where technology often overwhelms the human side of medicine. He received the Heinz Award in 2014 and was awarded the National Humanities Medal, presented by President Barack Obama, in 2015.
About Oprah's Book Club
Oprah's Book Club connects a worldwide community of readers to stories that truly matter by today's most thought-provoking authors. Readers around the world can join the conversation on Oprah's Book Club across social media using @OprahsBookClub and on OprahDaily.com. All selections are available now on Apple Books in both ebook and audiobook at apple.co/OprahsBookClub, and in bookstores around the country.
About Oprah Daily
In 2021, building on the mission and legacy of O, The Oprah Magazine, Oprah Winfrey and Hearst Magazines introduced Oprah Daily, a new multi-platform lifestyle venture offering audiences the content and tools to make living their best lives a daily practice. The brand features digital destination OprahDaily.com, offering the latest in wellness, culture, personal growth, style, beauty and more—including Oprah Daily Insiders, a special membership-only community where Insiders connect live with Oprah and each other in her monthly livestream The Life You Want Class; as well as with Editor-at-Large Gayle King, Creative Director Adam Glassman and other O personalities for exclusive events, videos, lives and more. The brand also publishes O Quarterly, a premium print edition published four times a year, available on newsstands and included with every Insider membership. Follow Oprah Daily on Instagram, Twitter, Facebook, and Pinterest.