W. F. Howes Signs Award-Winning Actor Will Poulter to Narrate John Lanchester's Latest Novel
For the first time in his career, the critically acclaimed British actor will bring an audiobook to life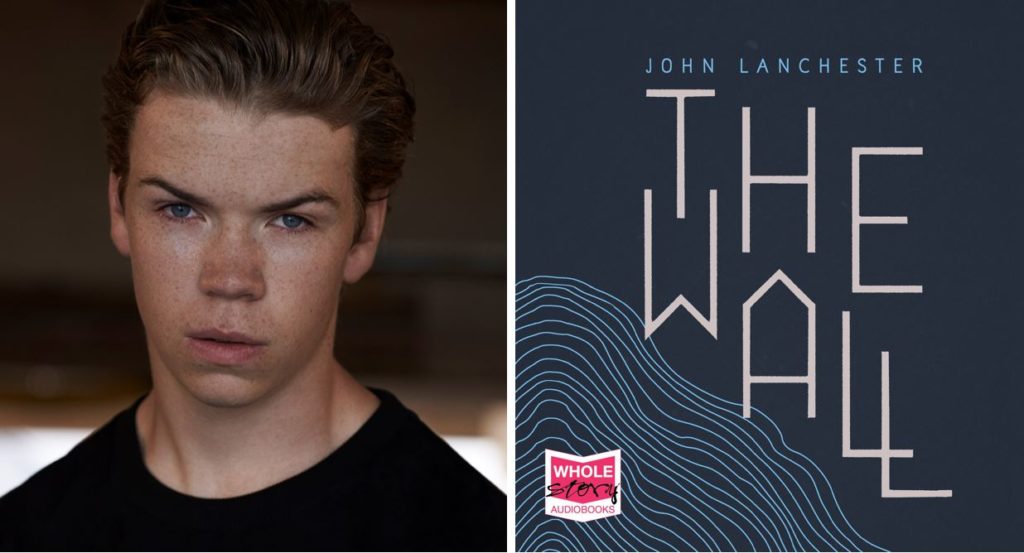 Leicester, UK, 7th January 2019 — W. F. Howes, an RBmedia company, today announced that British actor Will Poulter will be the voice of The Wall, a new novel by the best-selling author of The Debt to Pleasure and Capital. The audiobook version of the latest novel by John Lanchester will be released on 17th January 2019 concurrent with the print book.
The renowned actor – who has starred in films like The Little Stranger, Oscar-winner The Revenant, Kathryn Bigelow's Detroit and The Maze Runner – earned a BAFTA award for excellence in British film.
On narrating his first audiobook, Poulter says, "The Wall is an important book, and I am honoured to bring it to life in audiobook form. Narrating an audiobook was a completely new experience for me, but I relished the challenge and have come to appreciate just how much work goes into their creation. Spending three days in a studio telling Kavanagh's story aloud was an immersive experience and, at times, emotionally demanding. What John Lanchester has created is a bleak vision of what the world we are facing in the not-too-distant future could look like if we don't take action. The Wall provides a fascinating projection of the world we live in and the many challenges faced by humanity. I urge people to listen to it."
The novel is the first from Lanchester since his critically acclaimed book, Capital, released in 2012. It is set in a dystopian world that blends the compelling issues of our time—rising waters, fear, and political division—into a suspenseful story of love, trust, and survival.
On the choice of narrator, Lanchester says, "Will Poulter is an exceptional talent, and I'm thrilled that he will be reading the audiobook of The Wall. I can't wait to hear it."
Miles Stevens-Hoare, General Manager of W. F. Howes, says, "We are thrilled to have secured such a well-known talent with an arresting voice to narrate this exciting book. With audiobooks being the fastest-growing sector in digital publishing at the moment, we hope to see more actors like Will take steps into audiobook narration."
W. F. Howes have exclusive world audiobook rights for The Wall in the trade and library markets.
About Will Poulter
British actor Will Poulter has starred in a number of highly acclaimed works, including Oscar-winning director Kathryn Bigelow's film Detroit, Netflix's film War Machine, BAFTA- and Academy Award-winning film The Revenant, and, most recently, Lenny Abrahamson's film The Little Stranger, which is adapted from Sarah Waters' gothic novel. Will was presented with the prestigious EE BAFTA Rising Star Award, positioning him as one of the U.K.'s most exciting young talents. Poulter will next be seen in Midsommar, directed by Ari Aster.
Earlier in his career, Poulter starred in titles such as the Twentieth Century Fox franchise The Maze Runner, Warner Bros box office hit comedy We're the Millers, nostalgic hit comedy Son of Rambow, and the blockbuster adaptation of The Chronicles of Narnia: The Voyage of the Dawn Treader.
About W. F. Howes
W. F. Howes Ltd, an RBmedia company, is the UK's leading audiobook, digital services, and large-print publisher, releasing about 76 new unabridged audiobooks every month. The company's digital arm delivers audiobooks and eBooks to the library market through the RBdigital platform, alongside several other platforms specializing in same-day newspapers and magazines, adult learning, and language tutorial programs. W. F. Howes also publishes large-print books, including contemporary titles, popular genre fiction, prize-winners, and gripping non-fiction.
For more information, visit www.wfhowes.co.uk or email info@wfhowes.co.uk.
For more information about this release, please contact Bethony James at bethony.james@wfhowes.co.uk or call 07956 096 915.