Exclusive Cover Reveal and Author Q&A: So You Need to Decide by Beth Lapides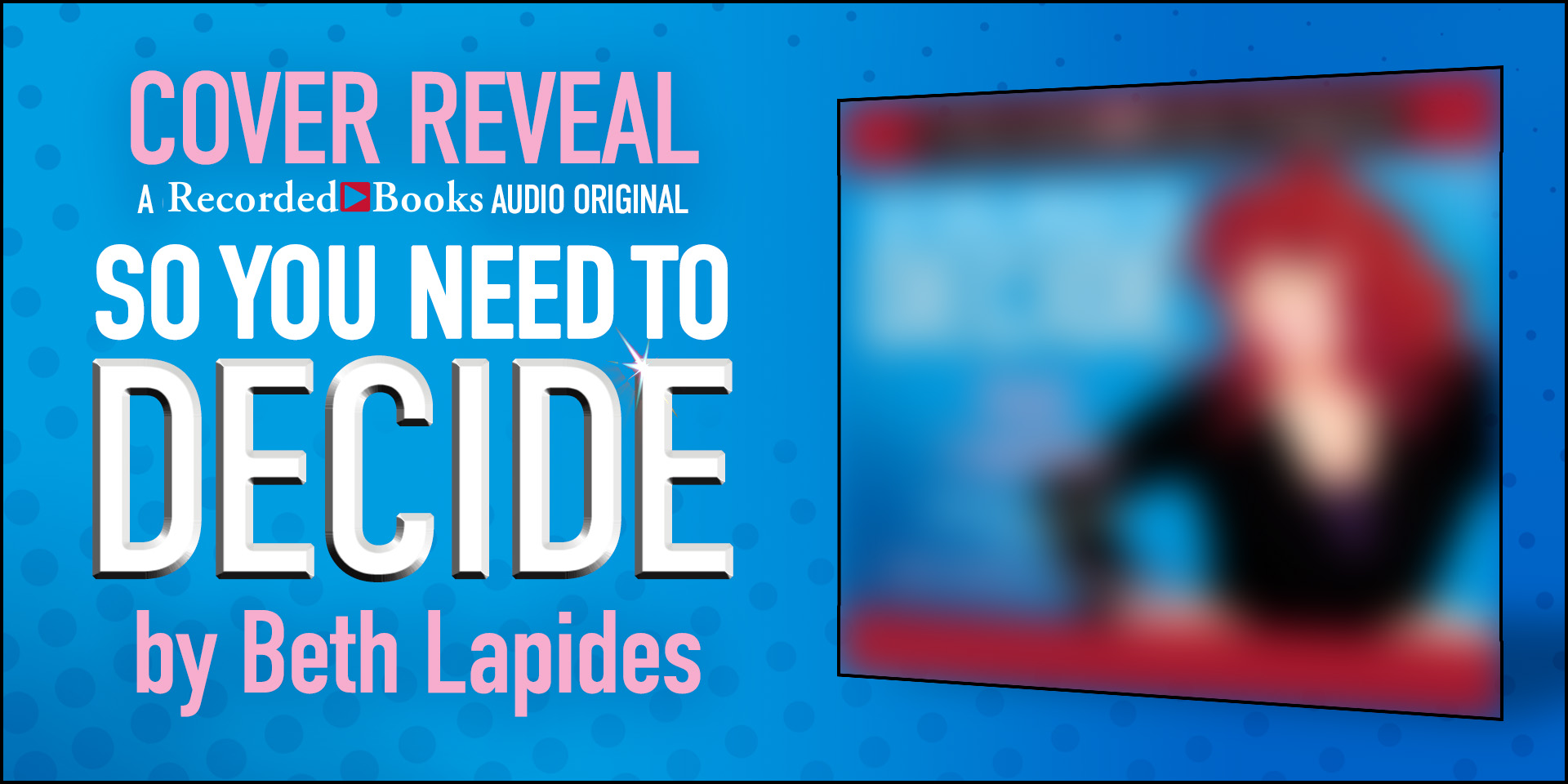 We're beyond thrilled to reveal the cover for Recorded Books Original
So You Need to Decide–coming to audio January 18, 2022!
Hailed by the Los Angeles Times as the "godmother of alternative comedy," Beth Lapides, creator of LA's long-running UnCabaret, delivers a funny and heartfelt meditation on the power of decisions, the place for regret, and the space for grace. This series of intimate conversations with a diverse group of comedians, writers, and cultural icons revolves around five universal experiences: family, work, love, moving, and spirituality.
Featuring original interviews with Margaret Cho, Isaac Mizrahi, Bob Odenkirk, Phoebe Bridgers, Baron Vaughn, Aparna Nancherla, Merrill Markoe, and Josh Gondelman, and with research assistance by Mathew Klickstein.
PRE-ORDER NOW
Audible
Audiobooks.com
Libro.fm
Kobo
…and wherever audiobooks are sold.
AUTHOR Q&A
And now, go behind-the-audio in an exclusive conversation with Beth Lapides…
RB: What inspired you to create this audiobook and its unique format? 
BL: I was so excited to start seeing original audiobook projects. I'm always excited by new media and I really wanted to do one because I thought … I mean, I love books and I also love talking. And I was like, this is a way I could put talking and books together. Because so much of my work has been about conversation and conversational comedy, I wanted to do a project where conversation and my own writing could come together, and this original audiobook format was exactly that. And I'm so excited to have done it and be at the beginning of this very exciting new media.
RB: How did you come up with the title for So You Need to Decide? 
BL: So, how did I decide on the title for So You Need to Decide? Really, I had this idea for the book, and I was temporarily calling it So You Need to Decide, So You Need to Decide. It was one of those temporary titles that was like, oh, that's the title, that's actually the title. But then what happened was in the transcripts that we got from all the conversations, there were almost no mistakes. The transcriber was so good. The only thing was there were missing commas after every "So." In the entire transcript, there must have been 100,000 missing commas after "So." But then, it turned out you could have a comma or not have a comma. It was one of those you-decide parts of punctuation. And we decided that we would have no comma in So You Need to Decide. … That was how we decided about So You Need to Decide.
RB: What was it about the people you interviewed in this project that made you know they had something to say about making decisions? 
BL: Everyone in this book had so many incredibly interesting and funny stories about their decision-making process. And I was so thrilled to get to talk to them. I knew—partly the reason I knew—they would have these stories is a lot of them are part of UnCabaret, and I had heard their stories. But everybody in the book is creative and a thoughtful person. And that combination of funny storytellers and deep, thoughtful people was really what I was looking for when I was putting together the group that would be the conversations of this book. And everybody did have such amazingly interesting stories. So, that was how I knew.
RB: Did anything funny happen in the studio while you were recording? OR did anything funny happen while you were interviewing (like a blooper kind of funny)?
BL: Okay, so there were two funny things that happened in recording this. Well, I don't know funny. But because we were recording in our homes, because it was during covid, we were using QuickTime recordings and then they were being married—not to be too romantic about it—in the studio. So, Isaac Mizrahi and I had this amazing conversation and at the end of it I said, "Okay, so, just send your file." And there was a pause—that kind of pause that can only mean disaster—my file? And he hadn't pressed record. And so, we knew right then we needed a new system. So, we changed our system and, you know, there was a lot of change and evolution in how the tech part of this book happened. Anyway, the second conversation turned out to be even better, so it was great.
And then the other thing was, it was the first time I was doing studio audiobook recording. And at a certain point the director, whose name is Amy Rubinate, who I loved so much, she said, "Oh, you're hungry." And I was like, "No, no, I'm fine." And she was like, "No, I can hear your stomach." The microphone knows you're hungry before you do. And then two seconds later my stomach grumbled again. I was like, oh my god, that's a very intimate relationship to be having with this microphone. Anyway, those are two sort of funny things that happened while we were recording.
RB: What surprised you while working on this project? 
BL: One thing that kind of surprised me while I was working on this project was there was going to be a chapter about stuff. I thought people would have funny stories about buying things. You know, we do spend a lot of time deciding on what phone and deciding on a mattress and deciding which car. I mean, it's a culture of consumers as much as I wish maybe it wasn't. And I just thought there would be stories about that, and there were none. Nobody had one thing. It was fine. We had so much material about so many other decisions. It made me happy because it was the shallowest. I mean to have family and spirituality and moving and work and love. These are the important things. So, I was pleasantly surprised in a way that people didn't really attach any importance to these decisions, which we spend a lot of time but maybe not a lot of high vibration energy on, and they don't stick in a storytelling way. So that was kind of a nice surprise.
RB: Do you prefer writing in silence or to music? 
BL: I really like writing to silence … and music. I mean, honestly, I love the variation. Mitch Kaplan, who did the incredible music in this book, is here in the house playing gorgeous music all the time. And sometimes that's amazing to write to. And sometimes, if he's working on something that is not amazing to write to, I put in headphones and play my Phoebe Bridgers Pandora channel. Or sometimes white noise. And sometimes I do really love writing to silence. It can go either way. I think sometimes if I'm struggling with writing, it's nice to have music. And I especially like to have one song on repeat because then you're sort of hearing it, but you're also not hearing it. If you pick a mood, a song, a mood that you want to be in and you're not having to listen to the words, it can just sort of propel you … With silence, sometimes there's too much room. Its boundaries create freedom … with one song playing over and over again. I have a lot of embarrassing songs that I've done that to. I can't think which one would be most embarrassing. I think there was a Taylor Swift song. Oh, Taylor Swift has one about a thread … the golden thread, the silver, the invisible thread. And I love that idea, even in terms of decision-making, as I was writing, The Invisible Thread is helping us make decisions. So, you know, I wasn't listening to the whole song, but it was this idea of something that's connecting everything. And I think that is true about decision-making. And then sometimes it's just nice to be like, there's nothing happening except for the birds and the crazy jack hammers outside and the Los Angeles sirens and noise of the city. So that's what I write to.
RB: Are you an audiobook listener? What are some of your favorite audiobooks?
BL: I really love Mikel Jollett's book Hollywood Park. I mean, I love memoir and because he's a musician, there was his music in it. And it just … there was a reason for it really to be an audio experience, and that was so beautiful. I really love that book.
RB: Who are you most excited to have listen to this audiobook? 
BL: I'm so excited for everyone to hear this book. I mean, I think there's so much pressure about decision-making right now. And I know I've told people, "Oh yeah, I did this original audiobook So You Need to Decide." And people are like, "I need to listen to that. I need help." We all need help, I needed help. That was one of the great things about doing this book. I learned so much about decision-making. I mean, I think especially who I'm excited about listening to this book is Céline Dion.