July 2023 Audiobook Releases
Another month of fun in the sun! Another month of great audiobook releases!
Light Bringer (Red Rising, Book 6)
Written by Pierce Brown
Performed by Tim Gerard Reynolds
Published by Recorded Books
Darrow returns as Pierce Brown's New York Times bestselling Red Rising series continues in the thrilling sequel to Dark Age.
Star Bringer
Written by Tracy Wolff and Nina Croft
Performed by Mia Barron, Liv Anderson, Samara Naeymi, and Ruffin Prentiss
Published by Recorded Books
Firefly meets The Breakfast Club in this snarky, new adult LGBTQ romance. The sun is dying…and it's happening way too damn fast. With the clock ticking, the Nine Planets' only hope of survival rests on a fancy space station and the alien artifact it's carrying. Which is why it really sucks when some jackass doesn't want the universe saved and blows that station up―while you're still on it.
Those Who Saw the Sun: African American Oral Histories from the Jim Crow South
Written by Jaha Nailah Avery
Performed by Jaha Nailah Avery and Arnell Powell
Published by Recorded Books
Those Who Saw the Sun is a collection of oral histories told by Black people who grew up in the South during the time of Jim Crow.
The Prince & The Apocalypse
Written by Kara McDowell
Performed by Laura Knight Keating
Published by Recorded Books
An American teen stranded in London is forced to team up with the British crown prince if she wants to make it back home before the end of the world in this delightfully rompy high-stakes rom-com.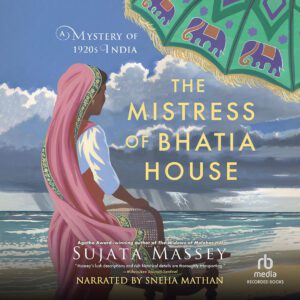 The Mistress of Bhatia House (Perveen Mistry Mysteries, Book 4)
Written by Sujata Massey
Performed by Sneha Mathan
Published by Recorded Books
Bombay's only female solicitor, Perveen Mistry, grapples with class divisions, sexism, and complex family dynamics as she seeks justice for a mistreated young woman in this thrilling fourth installment in Sujata Massey's award-winning series.
Pink Lemonade Cake Murder (Hannah Swensen Mystery, Book 28)
Written by Joanne Fluke
Performed by Suzanne Toren
Published by Recorded Books
Fans of deliciously charming, page-turning whodunits rejoice! Beloved New York Times bestselling author and "Queen of the Culinary Mystery" Joanne Fluke delivers the twenty-eighth mouthwatering Hannah Swensen Mystery!
Jews in the Garden: A Holocaust Survivor, an Investigative Reporter, and a Family's Quest for Answers in Poland
Written by Judy Rakowsky
Performed by Judy Rakowsky
Published by HighBridge Audio
Jews in the Garden is a globe-trotting detective story that turns investigative eyes and ears toward the hidden events in Poland during the Holocaust. Judy and Sam, the unlikeliest of sleuthing duos, knock on doors, petition court documents, seek clandestine meetings, and ultimately discover what really happened to the "Jews in the garden next door."
Double Trouble: A Bedlam Butchers MC Romance
Written by Ruby Dixon
Performed by Hollie Jackson
Published by Tantor Media
In the world of motorcycle clubs, a snitch is a dead man. And the Bedlam Butchers have a snitch who's intent on taking down one of the newest members of their club. Shy knows just who the snitch is, too–it's her older brother. But she can't do anything about it, because Shy's got no one to protect her. If she tells what she knows, her brother's going to sell her out to his new, dangerous buddies. If she keeps quiet, she's still at risk from the Butchers. She needs someone at her back. Enforcers Muscle and Beast are the perfect solution… if she has the guts to make a play.