Celebrate the Legacy of Octavia E. Butler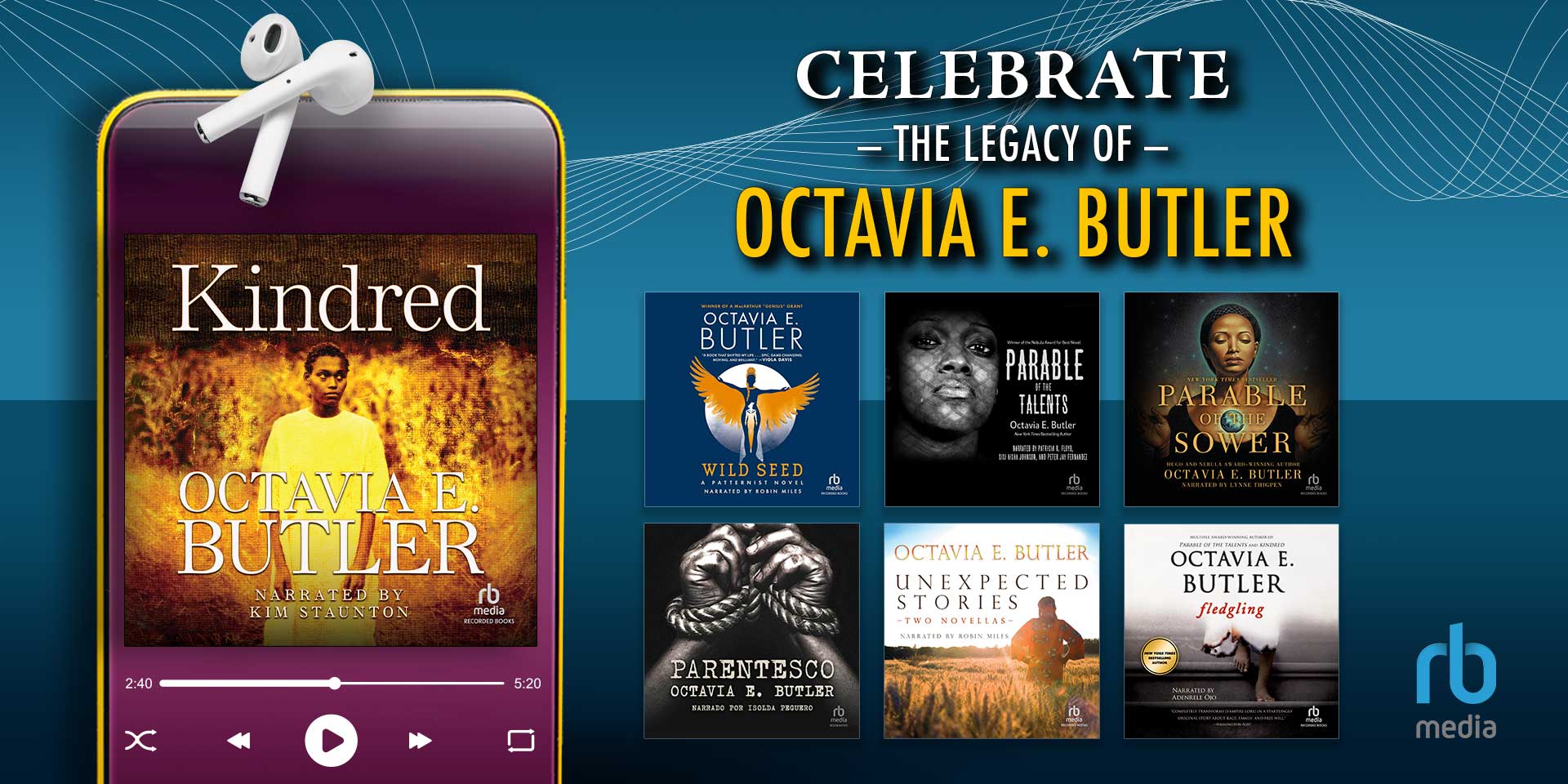 Octavia E. Butler was a pioneer of the science fiction genre. As one of the first African American and female science fiction writers, Butler paved the way for future writers of color, as well as female science fiction writers. Butler was the first science fiction writer of any gender or race to receive the prestigious MacArthur Foundation "Genius" Grant. She was also the first Black woman to win a Hugo or a Nebula Award, two of the genre's highest honors. Kindred—now an FX series on Hulu—Parable of the Sower, Wild Seed and Fledgling are some of her most notable science fiction works. Her impact on science fiction has cemented her as a leader in the genre. If you're looking to dive into Butler's body of work, hit play on any of these audiobooks and jump right in.
Narrated by: Kim Staunton
FX adaptation now streaming on Hulu. The first science-fiction written by a Black woman, Kindred has become a cornerstone of African-American literature. This combination of slave memoir, fantasy, and historical fiction is a novel of rich literary complexity.
Wild Seed (The Patternist, Book 1)
Narrated by: Robin Miles
As the acclaimed Patternist science-fiction series begins, two immortals meet in the long-ago past – and mankind's destiny is changed forever.
Parable of the Sower, (Earthseed, Book 1)
Narrated by: Lynne Thigpen
Hugo and Nebula Award-winning author Octavia E. Butler paints a stunning portrait of an all-too-believable near future. As with Kindred and her other critically-acclaimed novels, Parable of the Sower skillfully combines startling visionary and socially realistic concepts.
Parable of the Talents (Earthseed, Book 2)
Narrated by: Sisi Aisha Johnson, Patricia R. Floyd, and Peter J. Fernandez
Environmental devastation and economic chaos have turned America into a land of horrifying depravity. Assault, theft, sexual abuse, slavery, and murder are commonplace. Taking advantage of the situation, a zealous, bigoted tyrant wins his way into the White House.
Narrated by: Adenrele Ojo
This is the story of an apparently young, amnesiac girl whose alarmingly unhuman needs and abilities lead her to a startling conclusion: She is in fact a genetically modified, 53-year-old vampire.
Unexpected Stories: Two Novellas
Narrated by: Robin Miles
This exciting collection presents two previously unpublished stories by SF legend Octavia E. Butler.
A Necessary Being precedes the events of Survivor, Butler's third (famously disowned) installment in her Patternist series, and includes characters from it, focusing exclusively on the Kohn, aliens who build their social hierarchies on the blueness of their fur.
In Childfinder, a black woman with the gift of identifying children with latent psychic ability refuses to share her skill with an organization of white telepaths.
Narrated by: Isolda Peguero
Published by: BookaVivo
Más de treinta y cinco años después de su lanzamiento, Parentesco sigue atrayendo a nuevos lectores con su profunda exploración de la violencia y la perdida de la humanidad causada por la esclavitud en Estados Unidos, y el impacto complejo y duradero que aun tiene este hecho histórico en la actualidad.