8 Self-Improvement Audiobooks
A new year is typically accompanied by New Year's resolutions. We start off strong, but often lose momentum after a few weeks. Don't give up on your goals! Keep the promises you made to yourself with the help of these motivational audiobooks.
The 6 Types of Working Genius: A Better Way to Understand Your Gifts, Your Frustrations, and Your Team
Written by: Patrick M. Lencioni
Narrated by: Ray Porter
New York Times best-selling author Patrick Lencioni unveils a truly groundbreaking new model that will change the way we think about work and teams forever.
The 6 Types of Working Genius is the fastest way to help people identify the type of work that brings them joy and energy and avoid work that leads to frustration and burnout.
Competing in the New World of Work: How Radical Adaptability Separates the Best from the Rest
Written by: Keith Ferrazzi, Kian Gohar, and Noel Weyrich
Narrated by: Chris Henry Coffey
The #1 New York Times bestselling author and longtime leader in the discussion of the future of work provides research-based insights and best practices for leading change in the ever-evolving post-pandemic world of work.
The pandemic forced your organization to shed antiquated systems, processes, and procedures and to make a bold leap into an even more digitally enabled, technology-driven future. After months of adapting, your teams have settled into new, often better, ways of doing things.
Love + Work: How to Find What You Love, Love What You Do, and Do it For the Rest Of Your Life
Written by: Marcus Buckingham
Narrated by: Marcus Buckingham
Love has been driven out of our workplaces. How do we get it back in?
We're in the middle of an epidemic of stress and anxiety. Average life expectancy in the US is down. At work, less than sixteen percent of us are fully engaged. In many high-stress jobs such as distribution centers, emergency room nursing, and teaching, incidences of PTSD are higher than veterans returning from war zones. We are getting something terribly wrong. Our workplaces fail utterly to provide for or capitalize on one of our most basic human needs: our need for love.
You, Happier: The 7 Neuroscience Secrets of Feeling Good Based on Your Brain Type
Written by: Dr. Daniel Amen 
Narrated by: Jim Frangione
#1 New York Times bestselling author Dr. Daniel Amen reveals the seven neuroscience secrets to becoming more than 30 percent happier in just 30 days ― regardless of your age, upbringing, genetics, or current situation.
Real Life, Real Love: Life Lessons on Joy, Pain, & the Magic That Holds Us Together 
Written by: Raashaun "DJ Envy" Casey and Gia Casey
Narrated by: Raashaun "DJ Envy" Casey and Gia Casey
Advice on how to have healthy, dynamic relationships from Raashaun (DJ Envy) and Gia Casey, revealing their secrets to navigating marriage, family, and faith. 
The Power of One More
Written by: Ed Mylett
Narrated by: Ed Mylett
In The Power of One More, renowned keynote speaker and performance expert Ed Mylett draws on thirty years of experience as an entrepreneur and coach to top athletes, entertainers, and business executives to reveal powerful strategies to help you live an extraordinary "one more" life.
Happy Mind, Happy Life: The New Science of Mental Wellbeing 
Written by: Dr. Rangan Chatterjee
Narrated by: Dr. Rangan Chatterjee
During his twenty years as a GP, Dr. Rangan Chatterjee, author of the international bestseller Feel Better in 5, has seen first-hand that motivation isn't always enough for us to maintain a healthy lifestyle. It's only when we learn how to support our own mental wellbeing and cultivate core happiness that these choices become easy
Upcoming Releases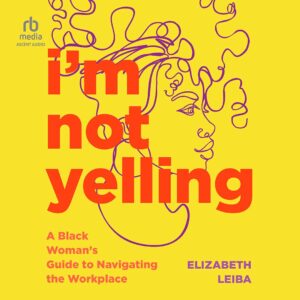 I'm Not Yelling: A Black Woman's Guide to Navigating the Workplace
*Releases March 28, 2023
Written by: Elizabeth Leiba
Narrated by: Zoleka Vundla
I'm Not Yelling is part strategy for savvy black business women navigating a predominantly white corporate America and part vessel empowering black women to find their voices in toxic work environments and be successful business women.