RBmedia Brings Long-Awaited New Novel by Abraham Verghese to Audio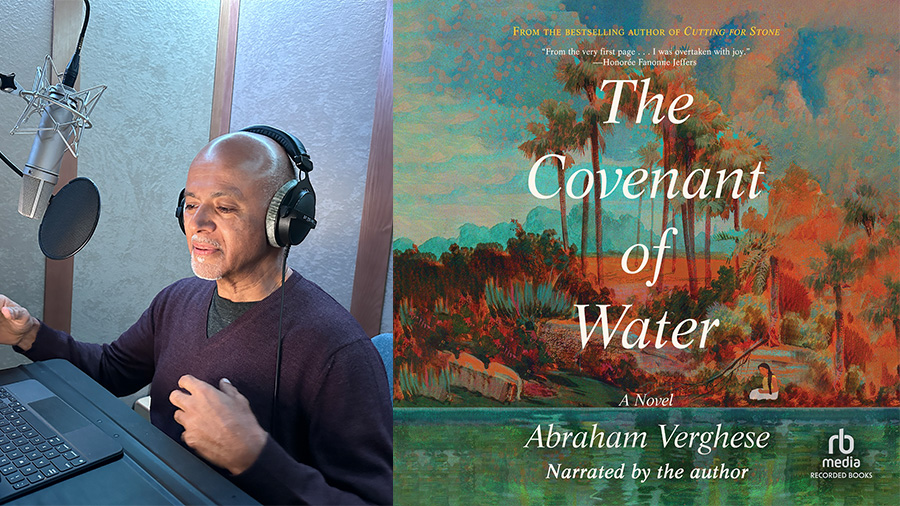 The Covenant of Water releases May 2 after 14 years of anticipation
Landover, MD, March 16, 2023—RBmedia, the largest audiobook publisher in the world, today announced the upcoming release of its audiobook recording of The Covenant of Water, the long-awaited new novel by bestselling author Abraham Verghese. More than a decade in the making, The Covenant of Water is Verghese's first book since Cutting for Stone, which spent over two years on the New York Times bestseller list and sold more than 1.5 million copies in the U.S. alone.
In addition to being a bestselling author, Abraham Verghese is a physician and professor of medicine. He is also the voice actor for The Covenant of Water audiobook.
Spanning the years 1900 to 1977, The Covenant of Water is set in Kerala, on South India's Malabar Coast, and follows three generations of a family that suffers a peculiar affliction: In every generation, at least one person dies by drowning—and in Kerala, water is everywhere.
Verghese said, "I have always wanted to write a novel set in the unique landscape of Kerala and within its fascinating and relatively unknown St Thomas Christian community. Inevitably, because of my day job, which I love, and because I'm drawn to long, epic novels, The Covenant of Water took a while. I love audiobooks and am a fan of certain performers. Whenever I did public readings of my prior books people would often say they loved my voice. I felt very qualified to do the names, accents, and foreign phrases. But more anything else I was dying to perform my story! I had wonderful producers in the studio to coach me, and I think we pulled it off."
The Covenant of Water has garnered starred reviews from Publishers Weekly, Kirkus Reviews, Library Journal, and Booklist, as well as been named a most anticipated book by the Washington Post, Minneapolis Star Tribune, Oprah Daily, Publishers Weekly (Top 10), Literary Hub, and BookPage.
Chief Content Officer at RBmedia Troy Juliar commented, "Abraham's writing and his performance is immersive. It is rare that an adored fiction writer is also capable of carrying the story with his or her voice, but in this case the author performs the story with grace and elegance. This is a novel the world has been anticipating for more than a dozen years, but our patience has been rewarded. To quote the Oprah Daily cover reveal, 'Good things—great novels—come to those who wait.'"
The Covenant of Water audiobook is available for pre-order now and will be published worldwide on May 2, 2023 by Recorded Books, the company's flagship audio brand. The Covenant of Water will be published in hardcover by Grove Press on May 2, 2023, and in the UK by Grove UK on May 18, 2023.  
###
About RBmedia
RBmedia is the largest audiobook publisher in the world. With more than 60,000 exclusive titles, our audiobooks continually top key literary awards and bestseller lists. The company's powerful digital retail and library distribution network reaches millions of listeners around the globe—at home, in the car, and everywhere their mobile devices go. Our titles are available on leading audio platforms, including Audible, Spotify, iTunes, Google Play, Audiobooks.com, Storytel, OverDrive, Hoopla, and many more. RBmedia is owned by KKR, a leading global investment firm. Find out more at rbmediaglobal.com.
About Recorded Books
Recorded Books is RBmedia's flagship audio brand for bestselling authors and content spanning all high-demand fiction and nonfiction genres. Our exclusive catalog of premium titles, narrated by award-winning actors, includes works by Brandon Sanderson, J.R.R. Tolkien, Diana Gabaldon, Sarah J. Maas, Jenny Han, Jeff Kinney, and many other leading authors. Since our founding in 1979, we have been a pioneer in the industry and, as part of RBmedia, have achieved thousands of industry honors, including the National Book Award, Audiobook of the Year, Booker Prize, Pulitzer Prize, Hugo Award, and many more.
About Abraham Verghese
Abraham Verghese is the Linda R. Meier and Joan F. Lane Provostial Professor in the Department of Medicine at Stanford University. He is the author of the New York Times bestseller Cutting for Stone and is a physician with a reputation for his focus on healing in an era where technology often overwhelms the human side of medicine. He received the Heinz Award in 2014 and was awarded the National Humanities Medal, presented by President Barack Obama, in 2015.