March 2023 Audiobook Releases
Spring into the new season with this month's top audiobook releases!
Written by Chantel Guertin
Performed by Natalie Naudus
Recorded by Recorded Books
Gigi Rutherford loves love stories. She reads them, she sells them at her romance bookstore, and she could spend hours imagining the meet-cutes of every couple she encounters. But when it comes to her own love interests, Gigi is out of stock. Instead of enduring bad date after bad date, these days she'd rather curl up with her favorite audiobook and the only man who makes her heart skip a beat: Zane Wilkenson, the smooth-voiced narrator Gigi is convinced is her soulmate.
Written by Daniel G. Amen, MD
Performed by Jim Frangione
Recorded by Recorded Books
In Change Your Brain Every Day psychiatrist and clinical neuroscientist Daniel Amen, MD, draws on over 40 years' clinical practice with tens of thousands of patients to give you the most effective daily habits he has seen that can help you improve your brain, master your mind, boost your memory, and make you feel happier, healthier, and more connected to those you love.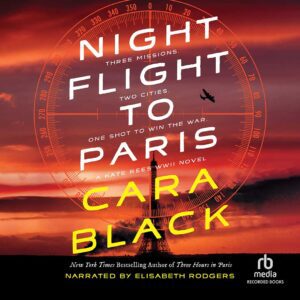 Night Flight to Paris (Kate Rees, Book 2)
Written by Cara Black
Performed by Elisabeth Rodgers
Recorded by Recorded Books
It is once again up to American markswoman Kate Rees to take the shot that just might win—or lose—World War II, in the followup to national bestseller Three Hours in Paris. Three missions. Two cities. One shot to win the war.
Written by SpaizZzer
Performed by Peter Berkrot
Recorded by Recorded Books
Matt is reincarnated as the most unlikely of heroes… Being reborn as a tree wasn't first on Matt's wishlist. It's not all bad though. For he's not just any tree, but an overpowered one in a fantasy world that serves as the battlefield for an ongoing conflict between demons and the heroes summoned to oppose them.
Written by Catherine Lacey
Performed by Cassandra Campbell
Recorded by Recorded Books
From one of our fiercest stylists, a roaring epic chronicling the life, times, and secrets of a notorious artist. When X―an iconoclastic artist, writer, and polarizing shape-shifter―falls dead in her office, her widow, wild with grief and refusing everyone's good advice, hurls herself into writing a biography of the woman she deified.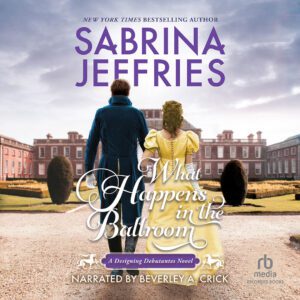 What Happens in the Ballroom (Designing Debutantes, Book 2)
Written by Sabrina Jeffries
Performed by Beverley A. Crick
Recorded by Recorded Books
From one of the best-known names in historical romance, New York Times bestselling author Sabrina Jeffries, comes the second in her dazzling Designing Debutantes series featuring a talk-of-the-ton trio of young women who've eschewed working as governesses to utilize their talents for fashion, food, and music, by running their own party planning enterprise, Elegant Occasions.
Written by Kekla Magoon
Performed by Dion Graham
Recorded by Recorded Books
From the Coretta Scott King and Printz Honor-winning author of How It Went Down, Light It Up, and Revolution In Our Time comes a moving contemporary YA novel about the bonds between a group of teens whose lives have been upended by tragedy.
48 Clues Into the Disappearance of My Sister
Written by Joyce Carol Oates
Performed by Sarah Welborn
Recorded by HighBridge
When a woman mysteriously vanishes, her sister must tally up the clues to discover her fate. Marguerite, a beautiful woman, has disappeared from her small town in Upstate New York. But is foul play involved? Or did she merely take an opportunity to get away for fun, or finally make the decision to leave behind her claustrophobic life of limited opportunities?
Did I Ever Tell You This? A Memoir
Written by Sam Neill
Performed by Sam Neill
Recorded by Recorded Books
In this unexpected memoir, written in a creative burst of just a few months in 2022, Sam Neill tells the story of how he became one of the world's most celebrated actors, who has worked with everyone from Meryl Streep to Isabel Adjani, from Jeff Goldblum to Sean Connery, from Steven Spielberg to Jane Campion.
Written by Donna Grant
Performed by Victoria McGloven
Recorded by Tantor
From New York Times bestselling author Donna Grant comes another gripping story in her Reaper series featuring a brotherhood of elite assassins who wage war on the Fae at Death's behest—and the women who dare to love them.
Written by Jeremy Dauber
Performed by Jeremy Dauber
Recorded by Tantor
A spirited dive into the life and career of a performer, writer, and director who dominated twentieth-century American comedy. Mel Brooks, born Melvin Kaminsky in Brooklyn in 1926, is one of the great comic voices of the twentieth century. Having won almost every entertainment award there is, Brooks has straddled the line between outsider and insider, obedient and rebellious, throughout his career, making out-of-bounds comedy the American mainstream.
Good Power: Leading Positive Change in Our Lives, Work, and World
Written by Ginni Rometty
Performed by Ginni Rometty
Recorded by Ascent Audio
Former IBM CEO Ginni Rometty delivers a powerful combination of memoir, leadership lessons, and big ideas on how we can all drive meaningful change. Ginni Rometty led one of the world's most iconic companies, and in Good Power she recounts her groundbreaking path from a challenging childhood to becoming the CEO of IBM and one of the world's most influential business leaders. With candor and depth, Rometty shares milestones from her life and career while redefining power as a way to drive meaningful change in positive ways for ourselves, our organizations, and for the many, not just the few—a concept she calls "good power."